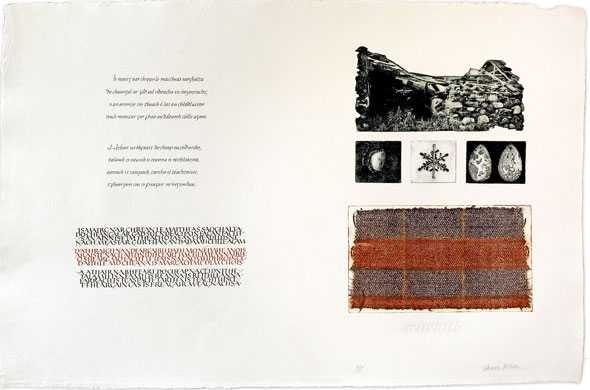 < back
'The Great Book of Gaelic'
more >
---
5 plate coloured etching printed at Clo Ceardlann na Cnoc in
Donegal on an artists residency for the above project.
The soft colours are those of Donegal in September 2001.
The calligraphy was by Frances Breen and acts as a reflection
of the facing page.
An international touring exhibition and book that brings together
the work of more than 200 poets, visual artists and calligraphers
from Ireland and Scotland.
Edition 13. Four copies are still available.
For additional information on this project, please
click here
.
Visit 'The Great Book of Gaelic' website at
www.leabharmor.net

---
"..... the humanity
That the sea did not tear,
That a thousand years did not spoil;
The quality of the Gael permanent."
Sorley Maclean .. 1911-1996
more >